Coming up
Don't miss our upcoming vernissages, workshops, lectures and screenings
Radek Zachariáš: Život ševce

Radek Zachariáš je jedním z předních českých ševců, vyznavač tradičního řemesla, ale také fanoušek moderních technologií, nonkonformista a ctitel krásných žen. Obuvnickému řemeslu se věnuje už více než 25 let. Začínal jako samouk a dopracoval se ke špičkové ruční výrobě obuvi na míru. Mezi jeho zákazníky patří známé osobnosti, ale i širší veřejnosti neznámí milovníci kvalitní ruční práce. V současné době tvoří v pražské dílně společně se svými spolupracovníky a zákazníci na své první nové boty čekají i více než šest měsíců. V unikátním prostoru galerie SmetanaQ budete mít jedinečnou příležitost k neformálnímu setkání s touto nevšední osobností.
Gallery
i
Opening hours
Tue - Sun 11 a.m. - 6 p.m.
E-mail
---
Located on the third floor
As part of the SmetanaQ concept of promoting art and design, we have showrooms in which we collaborate with guest galleries. There are three interconnected, painstakingly restored halls, which offer generous space with views of the Prague Castle and the Petřín Hill. The gallery has high ceilings and plenty of light, which gives both the works exhibited and the visitors ample space to breathe freely.
Lines
Open Call
Events
i
Opening hours
Dle domluvy
E-mail
---
Located on the third floor
The gallery is also available for non-cultural events. Would you like to use up to 300 square metres of space with a view of the Prague Castle and Petřín? We offer a unique place for your meetings, presentations, lectures and workshops.
The price of renting the space as well as detailed specifications will be sent on request.
EVENT SOFFA

Lifestyleový magazín o inspiraci, designu a životním stylu oslavil v prostorách galerie SmetanaQ křest prvního vydání české verze do té doby anglického časopisu! Součástí akce byla též modni show s modely od Kateřiny Plamitzerové a šperky od Markéty Kratochvilové.

Nivea event

Private event for Nivea client made by Select Agency took place this year in June.
Bottega
i
Opening hours
Dle domluvy
E-mail
bottega@smetanaq.cz
---
Located on the second floor
The name BOTTEGA comes from the Italian word "la bottega", which refers to handicraft workshops that open onto the street: skilled designers offered their products to passers-by, who had the unique opportunity to observe them at their work. This is exactly the kind of space we have made available in our house for young and experienced artists to work alongside one another in shared studios, The generous, minimalistic lounge allows people interested in craftsmanship to meet artists and see how their works are created. Designers can meet both clients and other studio tenants to interact, inspire, and create. Our lounge is also a place for exhibiting the best works from a given studio. When selecting the designers to occupy our studios, we focused on fashion and fashion accessories, jewelry and footwear. BOTTEGA provides the environment for creating and exhibiting products in peace and comfort. Separate studios spread across the city are without doubt poetic, but we enjoy sharing, communicating and forming communities of highly individual creators.
Designers
Photo Studio
i
Opening hours
Mon - Fri 8 a.m. - 8 p.m., weekends upon request
E-mail
info@smetanaq.cz
---
Located on the second floor
Besides offering some of the most beautiful views of the Prague Castle and the Petřín Hill, the newly reconstructed SmetanaQ Cultural Centre on Smetanovo nábřeží has a café on the first floor, designer studios on the second floor and the professional PHOTO STUDIO on the second; the last named covers an area of 52 square metres. We offer our own facilities and catering services from the SmetanaQ Café & Bistro. Moreover, we can arrange the services of stylists, make-up artists, and hairdressers. On request, we are happy to provide the prices of individual photo ateliers for commercial and non-commercial projects. The studio is suitable for shooting, filming or small-scale private events.
Deelive
i
Opening hours
daily 10 a.m. - 8 p.m.
E-mail
---
Located on the first floor
The deelive brand focuses on the production and sale of furniture and accessories created by successful Czech designers and local up and coming talent. The aim of the brand is to bring quality Czech design to the general public, both in the Czech Republic and abroad, and to support designers in their production. DEELIVE products are characterized by their uniqueness, highly accomplished finish and top-quality materials. With the aim of extending the concept of promoting Czech design, the brand of the deelive design store offers an exclusive selection of interior furnishings, glass, lighting, jewelry, fashion and accessories, toys, books and cosmetics by Czech design.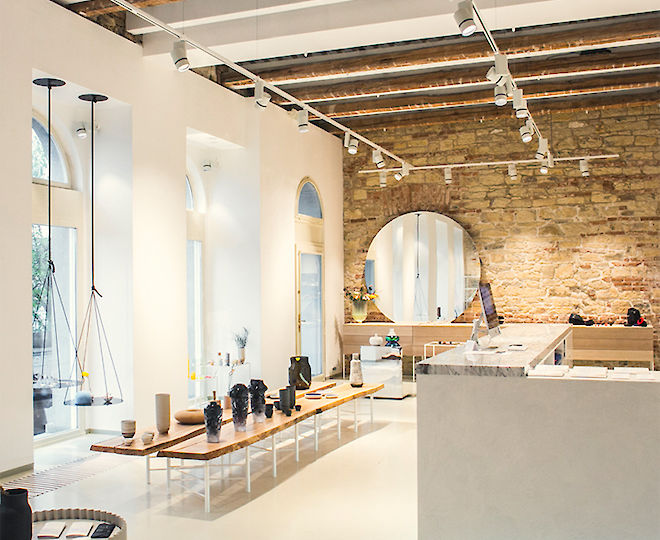 The deelive design store is one of the largest galleries in Prague that sells Czech design. It offers its customers a unique experience and a place for extraordinary meetings. Every product is treated as a work of art and sold with loving care. Professionally trained staff provide visitors with an insight into the behind of the scenes of creative work. Moreover, we can arrange a visit to the studios on the second floor, where you can watch designers at work.
Café & Bistro
i
Opening hours
daily 9 a.m. - 10 p.m.
E-mail
cafebistro@smetanaq.cz
---
Located on the first floor
Our SmetanaQ Café & Bistro is the heart of the house at No. 4 Smetanovo nábřeží. It´s a meeting point for students, artists and people from all walks of life who enjoy a cup of excellent coffee or tea.
Every morning our pastry cook comes to the kitchen to bake for you a wide variety of cakes, tarts, tartlets and fruit pies. Our kitchen also makes its own savoury desserts, quiches and sourdough bread as well as hot and cold breakfasts and substantial soups prepared from fresh vegetables and home-made bouillons. In the evening, you can sit with friends over a glass of wine not only inside the café but also on our newly opened terrace, which remains cool and shady on hot days. 
We are proud to offer quality food by Czech producers from Bohemia and Moravia. We strive to make our guests feel good so that they will come back again not only to enjoy our food but – far more important – to gain new energy from this special place on the Vltava River bank, in a house that we wanted to restore to a new life.